Introduction:
ZO Melamin by ZO Medical is a melamin cream that contains hydroquinone as the main and primary ingredient in its formulation. It is used as a topical treatment for melasma , Lightens light brown color patches on skin, Skin trauma, Age spots, Skin discolorations associated with pregnancy acne scars and any other forms of skin disorders and discoloration.
Hydroquinone works by polishing and purifying the deeper layers of the skin thus erasing spotted areas and blemishes along the way.
Since, it is a product manufactured by a trusted pharma company, you may tend to rely on it blindly. Before considering it, let's explore to what extent it can be beneficial for the skin.
What is hydroquinone and how does it work?
Hydroquinone is a bleaching agent that causes a reversible depigmentation of the skin by inhibition of the enzymatic oxidation of tyrosine. Tyrosine is essential for the production of melanin (a natural pigment responsible for the color of your skin).
Hydroquinone is basically a medicine, and several varieties of hydroquinone creams are available in the market that has different concentrations of this agent, in them. ZO melamin, like most Hydroquinone creams contains 4%Hydroquinone concentration.
How should the cream be used?
Test your skin for sensitivity before each use. If no itching or redness occurs within 24 hours of application of the cream, you may begin the treatment.
Apply a thin film of cream twice a day to clean and dry area(s) of your skin. It should be applied only on affected areas. Rub into the skin thoroughly.
Do not apply near the eyes, mouth, and other mucous membranes.
Must know:    Hydroquinone has been banned in Europe and Japan.  Its use is highly regulated in Asia. The sale of over-the-counter skin bleaching creams containing hydroquinone was banned in South Africa in 1992.
In the US, 2% hydroquinone can be bought over-the-counter, while higher 4% concentrations require a doctor's prescription. In Canada, 2% or 4% hydroquinone can be bought without a prescription. (https://www.womenfitness.net/skin-lightening/)
It is important to note that the maximum concentration of hydroquinone which has been permitted by the UK Cosmetics and products Regulations is 2%, while those with higher concentrations require a prescripton.
Reference:  https://www.ncbi.nlm.nih.gov/pubmed/3964548
Precautions to be taken while using hydroquinone creams:  
While using it avoid prolonged sun exposure, tanning booths, and sunlamps. Use a sunscreen and wear protective clothing on the treated areas of skin when outdoors.
Do not use if there has been a prior history of sensitivity or allergic reaction to hydroquinone.
The safety of topical hydroquinone use during pregnancy or for children (12 years and under) has not been established.
You must be thinking, 'Why so many regulations and precautions while using this product?'
Without doubt it can be said that Hydroquinone is one of the most effective molecules for the treatment of hyperpigmentation disorders, with over 40 years of efficacy and safety data. Concerns over its safety have been raised with respect to the long-term side-effects observed with cosmetic products containing high concentrations of hydroquinone.
Reference: https://www.ncbi.nlm.nih.gov/pubmed/16898897
There have been regulations regarding concentrations of this chemical and bans that have been imposed and lifted with time in several countries.
SIDE EFFECT of using this cream is limited to mild skin irritation and sensitization (e.g., burning, erythema, stinging).
*Topical usage of hydroquinone is not linked to any serious skin disorders or carcinogenesis. Although it is advisable to use creams with 2% hydroquinone concentration, and the use should not be continuous over long term. While it's ingestion can be harmful.
Apart from hydroquinone, some melamin creams like Melalite forte cream may also contain some natural ingredients like Kojic acid, Jojoba oil. It may also come packed with benefits of glycerine, and other chemicals to complement the effectiveness of the cream.
Everyone's skin responds differently to the product.
It is advisable to use the cream for short term, and discontinue the use if no results are seen within three months.
The ZO melamin cream has a price of around $66.
Ingredients typically found in Melamin creams

A Melamin cream typically contains 4% hydroquinone in its formulation as the chief ingredient. But that might not be the sole chemical used. The creams might also come packed with a blend of other ingredients too eg.-
Capryloyl Glycine: It is a functional ingredient with many benefits. It can restrict the growth of bacteria. Capryloyl Glycine also controls excessive secretion of sebum, making it conducive to prevent and treat acne. It helps carry the active ingredient and reduce wrinkles.
C13-14 Isoparaffin: It is a mixture of hydrocarbons (mineral oils) derived from petroleum, and is used in cosmetics and personal care products primarily as an emollient, and also considered a thickening agent or gelling ingredient.
Glycerin: It is a compound that can be made from natural products such as vegetable oil, or can be synthesized from propylene alcohol. Being a humectant, it attracts water. When glycerin or glycerol is applied to the skin, it seals in moisture that might otherwise escape. In addition to keeping the moisture level of the skin on track, the cosmetic effect of glycerin on skin is that the skin looks healthier and more attractive.
Glycolic Acid: It is a naturally occurring substance, that offers many benefits to the skin, from rejuvenating to moisturizing. It is safe enough to use on sensitive skins.
Kojic Acid: It is a product derived from several species of fungi, is known to limit melanin production — the substance that gives skin its color. Consequently, kojic acid is a common ingredient in skin lightening or depigmenting products.
Simmondsia Chinensis (Jojoba) Seed Oil: It is one of the most valuable oils in cosmetics because of its moisturising, penetration and skin-feel properties. This oil is markedly similar to the structure of fat (sebum) in human skin. As a result, jojoba oil can be quickly absorbed into skin, moisturising it, and facilitate the absorption of active ingredients.
Sodium Hydroxide: It is a highly alkaline ingredient used in small amounts in cosmetics to establish and hold the pH of a product. It's also used as a cleansing and denaturing agent.
Editor's Note: Why we recommend (1) Illuminatural 6i and (2) Skinbright over Melamin 4% hydroquinone cream?
(1) Illuminatural 6i by Skinception is an advanced cream that helps to effectively reduce skin darkening. Skin darkening, or hyperpigmentation attributed to sun exposure, ageing, hormonal imbalances or injuries can be faded away by using this cream.
It is one of the latest developments in skin lightening science that works dramatically to fade and even eliminate:
Freckles
Acne scars
Age spots
Hyperpigmentation
Post inflammatory hyperpigmentation
Birthmarks
Dark inner elbows & knees
Sun spots
Liver spots
Melasma
Chloasma
Old scars
What's different about Illuminator 6i?
The cream claims to gently lighten and brighten your skin using :
Clinically proven active skin lighteners
Plant-based sun filters
Healing anti-inflammatories
Natural exfoliants to slough off dark cells
Biologically active vitamins & anti-oxidants
Skin lightening extracts & oils
Dermal layer delivery agents
And deep skin brightening moisturizers
Let's find out what do you expect, when buying any skin brightening cream? First of all, our dark spots should fade away, and the product should not be loaded with harmful chemicals That is,  it should be safe and gentle on the skin. But one more factor is that we want the effect to stay, and protect our revived and brightened skin when we move out in the sun.
So, Illuminatural 6i comes as a perfect solution for your skin problems!
How does it work?
Infused with natural and clinically tested ingredients, the cream claims to be gentle on your skin, with no harmful side effects. Because Illuminatural 6i® works with your skin's own NATURAL 28-day cycle of regeneration. It blocks melanin production, causing new cells to rise to the surface, naturally sloughs off dead and hyperpigmented cells. Helps to accelerate the natural cycle of regeneration, and helps to maintain the flawless complexion you will attain, by using plant based filters to block UV rays!
You don't need to spend on any sun block cream for protecting your revived skin!
This skin lightening medication is a unique blend of all natural and FDA-approved ingredients that have been used for years to fight hyperpigmentation.
The cream contains 6 active and clinically tested ingredients, for skin whitening:
Niacinamide (5.0%), Sodium Lactate (8.0%), Magnesium Ascorbyl Phosphate (5.0%) , Whitonyl (4.0%), Alpha-Arbutin (1.0%)
Apart from these active ingredients, Skinception's Illuminator 6i contains advanced compounds to deliver active ingredients to the deeper layers of your skin.
 Hydrolite-5™ AND SymGlucan®
Hydrolite 5, is also an excellent skin moisturizer and reduces emulsion particle size which helps achieve better stability and improves formulation aesthetics. This works synergistically with preservatives to enhance the bioavailability of cosmetic actives as it also improves water-resistance of sunscreen formulations.
SymGlucan® is an oat extract used to penetrate intact human skin and help reduce the visible signs of aging. It provides immediate comfort and moisture that improves firmness and elasticity of skin as well as protects skin cells against UV radiation.
The product has NO mercury, hydroquinone, or other ingredients which may be harsh and invasive on the skin.
Hyperpigmentation or dark skin has to be dealt with patience. It is a stubborn problem, and the company makes no false claims to fade away your spots. According to science, our cells have a 28 day cycle of cell regeneration. To realize full benefits of this cream you need to wait for three cycles that is for 84 days.
Illuminator 6i provides you a full 90 day money back guarantee, so that you may realize the full potential of the product and be at a no risk position too.
The price of this cream is at par with Melamin hydroquinon 4% creams and at par with other skin brightening creams like Meladerm, and when you don't need to buy any additional product for UV protection while using Illuminatural 6i, this deal becomes more economical too! Along with the product being safe and effective, we recommend Illuminatural 6i over Melamin hydroquinon 4% creams and Meladerm!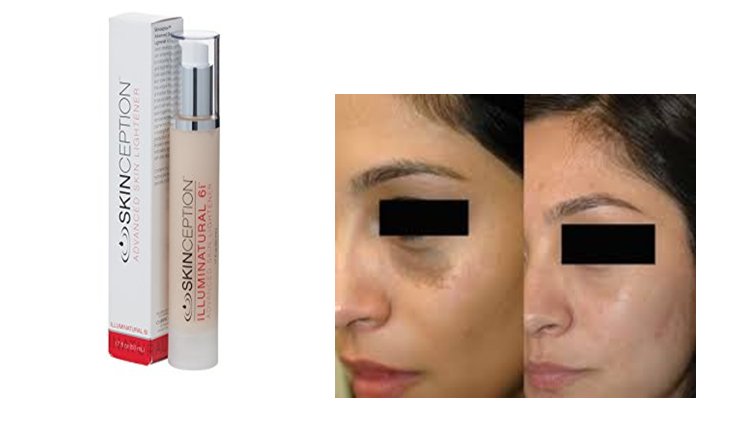 Illuminatural 6i, before and after results
(2) We rank, SkinBright as a second good option for fighting scars and lightening the age pots or dark tone of your skin. Let's explore what the product is all about.
SkinBright, is a cream that uses completely 'natural' and safe ingredients to ward off all types of skin discoloration including age spots, melasma, acne vulgaris scars and hyperpigmentation.
What is different about this cream, is that it provides moisturizing and anti ageing benefits too!
Alpha-Arbutin and Kojic Acid are two main featured ingredients in this product. They have been tested and proven safe and effective by dermatologists.
Along with them, they have a unique formulation that is potently active and safe on hyperpigmented skin. Let's explore some of its ingredients:
Alpha Arbutin – Extracted from the Bearberry plant, Alpha-Arbutin works to inhibit tyrosinase, and thus prevents the formation of melanin. Alpha-Arbutin is a powerful skin lightener.
Kojic Acid – Kojic acid is a by-product in the fermentation process of malting rice, for use in the manufacturing of sake, the Japanese rice wine. It's an effective and powerful pigmentation inhibitor.
Jojoba Oil –  An exceptional moisturizer, difficult to find, and lacking in most formulations.
Allantoin – Increases the smoothness of the skin, and promotes cell proliferation and wound healing. Has a soothing, anti-irritant, and skin protecting effect.
Malachite Extract – Malachite extract is a strong skin detoxifying agent and skin antioxidant.
Vitamin A Palmitate – When absorbed by the body turns to Retinol. This is important because Retinol aids in the resurfacing and rejuvenating of skin, helping to impart a clearer, more vibrant complexion for all ages and skin types.
SkinBright cream also includes ingredients to support, exfoliate and moisturize your skin. Some of them are, lemon extract, aloe vera, ascorbic acid, willow bark extract, passionflower extract, squalene and hemp oil. Some ingredients like Alantoin, vitamin A Palmitate have anti ageing properties and ingredients like Malachite extract have antioxidant properties.
This product is also free from parabens, hydroquinone and other harsh chemicals. It comes with an air dispenser technology, which prevents the product from degradation.
The company never says anything about the product being able to reach deeper layers of the skin, like illuminatural 6i.
With respect to safety we can say that this product contains natural ingredients, so it may not be harmful or produce allergic reactions in your skin. But, people with sensitive skin may still take care since it has strong exfoliating agents too.
The price of the product is a little too high. It amounts to 59$ for one bottle. Offer packs may lessen the price a little for you. And the company also provides a 60 day money back guarantee.
With all its benefits as a skin lightening, moisturizing and anti ageing cream, we rank it as a second best option after Illuminatural 6i.
Positive customer reviews on ZO Melamin 4% Hydroquinone:
The 4% Hydroquinone absolutely does work. I went to a plastic surgeon to get the laser treatments and they actually made the spots worse and even caused some new ones. I noticed that when the plastic surgeon recommended the treatments to me that her assistant got a strange look on her face because apparently she knew that they didn't work too. I think it also reduced the fat deposits in my cheeks (not what I wanted) and places on my face where I would have looked better if the fat deposits WERE reduced, those places were not touched with the laser. The laser actually caused me to have more brown spots. I had 2 treatments before I actually realized what was happening to my face (thank God I had the wherewithal to realize it early) I immediately stopped the treatments. I am not the only person who noticed these things happening as a result of these procedures because I researched blogs where women noticed the same thing happening to their face too.
I have had a tube of 4% Hydroquinone stuck in the back of a drawer for 20 years and eventually go back to using it because I figured "what the heck" and after all this time, it still works. It does eventually stop working because it will only lighten your skin up to a certain point. I am almost totally out of it now and will see if I can get my doctor to prescribe it to me after reading these posts. Thank you all who have posted that this stuff works for you too! (Sandra)
NOTHING has ever made such a difference in terms of luminosity, clarity and diminishment of hyperpigmentation like Hydroquinone.I have always used serums (vitamin C, Ferulic acid, etc) , retina, AHC and sunscreens so my skin generally looks good but I always had some hyperpigmentation on my upper cheekbones.

This is the ONLY product that has managed to really make a difference on my hyperpigmentation but just as important it has made the skin on my face look so much better. I went to visit my sister after not having seen her for close to a year and she took one look and said she had never seen such velvety, clear, glowing skin. I'm not trying to compliment myself but rather how effective this product is as an adjunct to your regular skin care system.

So a lot of people look to Hydroquinone just to remove spots or lighten their skin but for a woman close to 50 years old, I'm thinking it is just as effective at resetting the tone of your skin to make you look younger. To allay anyone's fear, at least for me, this hasn't really changed the color of my skin.I don't know how it reduces my hyperpigmentation while not changing the color of my skin but I definitely do not look like I have bleached skin. (William Golden)
I tried everything that I could buy in drug, department and beauty stores, to fade the uneven, rough, unsightly ugliness of my much darker knees and elbows, THEY BARELY DID ANYTHING! Since I have been using the Hydroquinone (4%)I will not be hiding my knees or putting makeup them for summer anymore! its working better and faster than I thought it would, on both places. THANK YOU! (Kelly)
It is so sad that this cannot be purchase in a drugstore. This really does work. I will purchase additional tubes. ( Kate)
Currently, I believe 4% is banned or limited by prescription in a number of countries due to the carcinogenic and other risks. However, my dermatologist believed that it would be acceptable for me to try, given that I was only going to use it sparingly on a few spots. This does not sting, feel uncomfortable, dry out, peel, or cause purging or other issues on my skin. No problems with scent. Unlike another reviewer below, I did not need to reduce my usage of retinol during the time that I used this product. (If you experience any irritation, I recommend reducing or ceasing any and all irritants).You are supposed to use it for no more than 90 days and then rest from it for a while. Sunscreen is a must, otherwise the applied areas could easily become darker. Prior to its restriction, there were a number of creams with a combination of retinol and hydroquinone. IMO, 2%, which is more widely available, doesn't do very much. (Shelly)
THIS IS THE PRODUCT OF MY DREAMS! Fades discoloration fast! It is also, luckily, one of the very few products that don't break my face out.(Brandie)
I have been using this cream to brighten my dark spots and freckles. I no longer have freckles and my face is nice, bright and clear skin.(Maggie Gomez)
Negative customer reviews on ZO Melamin 4% Hydroquinone:
A dangerous product, banned in some parts of the world like Europe! My derm prescribed this in 2010 for some melasma issues above my lip due to hormonal imbalance. It started off good but then became worse. This is NOT a product you can use long term! There are safer alternatives really!! (Eva)
The product smelled bad so I was unable to use it. (Angela Johnson)
SMELLS SO BAD!! (Patricia)
After 20 days of using topical hydroquinone creams, my face completely became black, especially on the places where I applied those cream. After researching on the internet, I suspected the culprit was hydroquinone 4% as many people had experienced the same effect as mine. Then, I stopped using melalite forte (hydroquinone 4%) cream. (Antony)
Read about this product and tried it, been using it religiously and have not seen any results. Threw it away and went back using old treatment and skin is starting to look better. This does not work and was a waste of money. (Ellie)
Couldn't use it for more than a month, coz of irritation in my skin and bad smell. Did not lighten at all, I saw no difference from when I started to present. (Martha)
References: