Introduction:
'Even better clinical dark spot corrector' is a product that has combined the qualities of a serum and a lightening agent in a single bottle! It's a light weight serum that targets dark spots and pigmentation issues, and additionally provides the benefits of a smoothening serum too.
It has been produced by a trustworthy company, which is known for making dermatologically tested products which will not cause any sort of allergy or side effects.
This product is a solution for:
Dullness and uneven texture (that may result due to stress and environmental damage)
Uneven skintone
Post acne marks
This product does not say anything about hypepigmentation that develops due to hormonal imbalance like Melsma and Chloasma.
Though, it is not clarified what type of dark spots can be lightened using this serum, it claims to work at par with any prescription lightening agent.
What makes it unique is that it has antioxidant and moisturizing properties that are found in any serum. Moreover it has ingredients that are effective skin lightening agents and have been tested for allergy.
The company's claims:
At 4 weeks, all skin tones can expect to see a 1-2 visible shade improvement in dark spots.
Prescription-strength serum improves dark spots 58% at 12 weeks
What the product contains?
Clinique utilizes a blend of active ingredients which they call CL-302 complex. It is made of special plant extracts, black yeast and salicylic acid which (a stabilized form of vitamin C).
Ascorbyl  Glucoside as a major skin lightening agent, which is supposed to be a more stable form of Vitamin C, shown to last on the skin a lot longer and offer skin brightening effects.
It also contains Mulberry extract, a natural skin lightener and exfoliating agents like grape peel fruit extract and salicylic acid which will help to remove dead skin cells and offer better product penetration.
'No detailed information about the active ingredients of this product is provided on the official website.' Their mechanism of action is also unknown.'
However, the complete list of ingredients is available. The product comes in a dual chamber pump bottle. Each time you may use it, an equal amount of serum as well as dark spot reducing complex is squeezed out.
It is suited for all skin types. Its action is soothing, and does not cause any skin irritation! But it is important to use a UV protection cream along with this product.
Strengths:
Hydroquinone free
No use of any artificial fragrance or parabens
Gentle on the skin
Weaknesses :
No data is available about any clinical study that would have been performed to prove the safety of the product.
Detailed information about active ingredients and how the product works is not provided.
No money back guarantee.
Clinique even better dark spot corrector is a safe and gentle skin lightening agent, that has nourishes the skin too. Though the company makes hefty claims, it is difficult to determine its efficacy due to lack of information about the ingredients used.
The price is way too high, when compared to other safe and clinically tested skin lightening treatments!
If you're on the lookout for a gentle skin nourisher that improves complexion also, then it is the right choice for you.
Ingredients:
Water\Aqua\Eau, Dimethicone, Butylene Glycol, Isododecane, Cyclopentasiloxane, Polysilicone-11, Ascorbyl Glucoside, Tromethamine, Pentylene Glycol, Curcuma Longa (Turmeric) Root Extract, Morus Bombycis (Mulberry) Root Extract, Cucumis Sativus (Cucumber) Fruit Extract, Betula Alba (Birch) Bark Extract, Scutellaria Baicalensis Root Extract, Trametes Versicolor Extract, Narcissus Tazetta Bulb Extract, Triticum Vulgare (Wheat) Germ Extract, Morus Nigra (Mulberry) Root Extract, Molasses Extract\Saccharum Officinarum\Extrait De Mélasse, Citrus Grandis (Grapefruit) Peel Extract, Hordeum Vulgare (Barley) Extract\Extrait D'Orge, Salicylic Acid, Oryza Sativa (Rice) Bran Extract, Algae Extract, Caffeine, Gentiana Lutea (Gentian) Root Extract, Vitis Vinifera (Grape) Fruit Extract, Saccharomyces Lysate Extract, Camellia Sinensis Leaf Extract, Yeast Extract\Faex\Extrait De Levure, Hydrolyzed Rice Bran Extract, Hydrolyzed Prunus Domestica, Sorbitol, Cholesterol, Phospholipids, Dipotassium Glycyrrhizate, Di-C12-18 Alkyl Dimonium Chloride, Squalane, PEG-10 Dimethicone, PEG-6, Glycerin, Sucrose, Polysorbate 20, Tocopheryl Acetate, Isohexadecane, Acetyl Glucosamine, Propylene Glycol Dicaprate, Arginine, Helianthus Annuus (Sunflower) Seedcake, Sodium Rna, Caprylyl Glycol, Dimethoxytolyl Propylresorcinol, Glycyrrhetinic Acid, Sodium Hyaluronate, Polysorbate 80, Ammonium Acryloyldimethyltaurate/Vp Copolymer, Acrylamide/Sodium Acryloyldimethyltaurate Copolymer, Carbomer, Potassium Sorbate, Sodium Hydroxide, Sodium Sulfite, Sodium Metabisulfite, Hexylene Glycol, Disodium EDTA, Phenoxyethanol, Yellow 5 (CI 19140), Yellow 6 (CI 15985).
Editor's Note: Why we recommend (1)Illuminator 6i and (2)Skinbright over Clinique even better dark spot corrector?
(1) Illuminator 6i by Skinception is an advanced cream that helps to effectively reduce skin darkening. Skin darkening, or hyperpigmentation attributed to sun exposure, ageing, hormonal imbalances or injuries can be faded away by using this cream.
It is one of the latest developments in skin lightening science that works dramatically to fade and even eliminate:
Freckles
Acne scars
Age spots
Hyperpigmentation
Post inflammatory hyperpigmentation
Birthmarks
Dark inner elbows & knees
Sun spots
Liver spots
Melasma
Chloasma
Old scars
What's different about Illuminator 6i?
The cream claims to gently lighten and brighten your skin using:
Clinically proven active skin lighteners
Plant-based sun filters
Healing anti-inflammatories
Natural exfoliants to slough off dark cells
Biologically active vitamins & anti-oxidants
Skin lightening extracts & oils
Dermal layer delivery agents
And deep skin brightening moisturizers
Let's find out what do you expect, when buying any skin brightening cream? First of all, our dark spots should fade away, and the product should not be loaded with harmful chemicals that is, it should be safe and gentle on the skin.
But one more factor is that we want the effect to stay, and protect our revived and brightened skin when we move out in the sun.
So, Illuminator 6i comes as a far better solution than other competing skin brighteners for your skin problems!
How does it work? 
Infused with natural and clinically tested ingredients, the cream claims to be gentle on your skin, with no harmful side effects. Because Illuminatural 6i® works with your skin's own NATURAL 28-day cycle of regeneration.
It blocks melanin production, causing new cells to rise to the surface, naturally sloughs off dead and hyperpigmented cells. Helps to accelerate the natural cycle of regeneration, and helps to maintain the flawless complexion you will attain, by using plant based filters to block UV rays!
You don't need to spend on any sun block cream for protecting your revived skin!
This skin lightening medication is a unique blend of all natural and FDA-approved ingredients that have been used for years to fight hyperpigmentation.
The cream contains 6 active and clinically tested ingredients, for skin whitening:
Niacinamide (5.0%), Sodium Lactate (8.0%), Magnesium Ascorbyl Phosphate (5.0%) , Whitonyl (4.0%), Alpha-Arbutin (1.0%)
Apart from these active ingredients, Skinception's Illuminator 6i contains advanced compounds to deliver active ingredients to the deeper layers of your skin.
 Hydrolite-5™ AND SymGlucan®
Hydrolite 5, is also an excellent skin moisturizer and reduces emulsion particle size which helps achieve better stability and improves formulation aesthetics. This works synergistically with preservatives to enhance the bioavailability of cosmetic actives as it also improves water-resistance of sunscreen formulations.
SymGlucan® is an oat extract used to penetrate intact human skin and help reduce the visible signs of aging. It provides immediate comfort and moisture that improves firmness and elasticity of skin as well as protects skin cells against UV radiation.
References:
The product has NO mercury, hydroquinone, or other ingredients which may be harsh and invasive on the skin.
Hyperpigmentation or dark skin has to be dealt with patience. It is a stubborn problem, and the company makes no false claims to fade away your spots. According to science, our cells have a 28 day cycle of cell regeneration. To realize full benefits of this cream you need to wait for three cycles that is for 84 days.
Illuminator 6i provides you a 90 day money back guarantee, so that you may realize the full potential of the product and be at a no risk position too.
The price of this cream isn't high and when you don't need to buy any additional product for UV protection while using illuminator 6i, this deal becomes more economical too!
So, we recommend Illuminator 6i over Clinique even better dark spot corrector.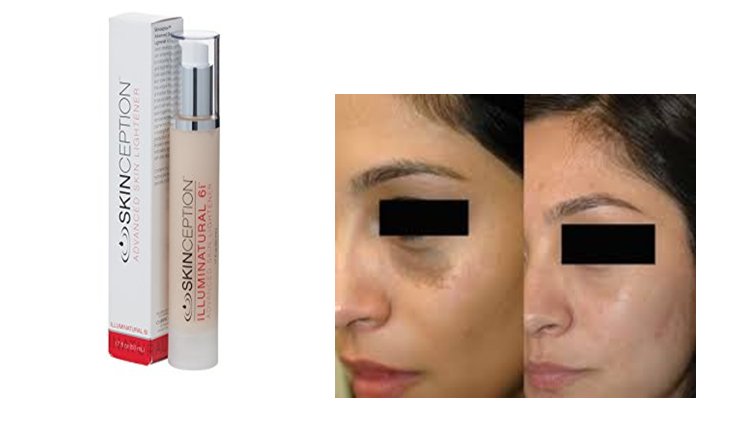 Illuminator 6i, before and after results
(2) We rank, SkinBright as a second good option for fighting scars and lightening the dark tone of your skin. Let's explore what the product is all about.
SkinBright, is a cream that uses completely 'natural' and safe ingredients to ward off all types of skin discoloration including age spots, melasma, acne vulgaris scars and hyperpigmentation.
What is different about this cream is that it provides moisturizing and anti ageing benefits too!
Alpha-Arbutin and Kojic Acid are two main featured ingredients in this product. They have been tested and proven safe and effective by dermatologists.
Along with them, they have a unique formulation that is potently active and safe on hyperpigmented skin. Let's explore some of its ingredients:
Alpha Arbutin – Extracted from the Bearberry plant, Alpha-Arbutin works to inhibit tyrosinase, and thus prevents the formation of melanin. Alpha-Arbutin is a powerful skin lightener.
Kojic Acid – Kojic acid is a by-product in the fermentation process of malting rice, for use in the manufacturing of sake, the Japanese rice wine. It's an effective and powerful pigmentation inhibitor.
Jojoba Oil –  An exceptional moisturizer, difficult to find, and lacking in most formulations.
Allantoin – Increases the smoothness of the skin, and promotes cell proliferation and wound healing. Has a soothing, anti-irritant, and skin protecting effect.
Malachite Extract – Malachite extract is a strong skin detoxifying agent and skin antioxidant.
Vitamin A Palmitate – When absorbed by the body turns to Retinol. This is important because Retinol aids in the resurfacing and rejuvenating of skin, helping to impart a clearer, more vibrant complexion for all ages and skin types.
SkinBright cream also includes ingredients to support, exfoliate and moisturize your skin. Some of them are, lemon extract, aloe vera, ascorbic acid, willow bark extract, passionflower extract, squalene and hemp oil. Some ingredients like Alantoin, vitamin A Palmitate have anti ageing properties and ingredients like Malachite extract have antioxidant properties.
This product is also free from parabens, hydroquinone and other harsh chemicals. It comes with an air dispenser technology, which prevents the product from degradation.
The company never says anything about the product being able to reach deeper layers of the skin, like Illuminator 6i.
With respect to safety we can say that this product contains natural ingredients, so it may not be harmful or produce allergic reactions in your skin. But, people with sensitive skin may still take care since it has strong exfoliating agents too.
The price of the product is a little too high. It amounts to 59$ for one bottle. Offer packs may lessen the price a little for you. And the company also provides a 60 day money back guarantee.
With all its benefits as a skin lightening, moisturizing and anti ageing cream, we rank it as a second best option after illuminator 6i. 
Positive customer reviews on Clinique even better dark spot corrector:
This is a great product, it helps lighten the dark spots due to sun and medications. Started with the original one that came out years ago but have been using the improved one and spots are much lighter. Great product!!!! (Sara Beth)
Used it for a week now, I can feel my skin is getting smoother, and softer. I haven't noticed any changes on my sun spots yet, but I love how my skin feel. (Candace)
This serum really works!! I noticed a brighter complexion in the first week!!! I really started to see my dark spots fade in the 2nd month. So anyone who just uses the smallest bottle, I suggest continuing to use for at least 2 more months! I used the even better moisturizer with SPF to use as my sunscreen and after 4 months my dark spots are gone!!! (Pameilla)
The Clinique Dark Spot Corrector is a quick and easy product that fades sunspots with continued use. It's a pretty clever product and I like that it doesn't have a fragrance and it didn't irritate my skin. It delivers on it's promise. (Lucy)
I got this serum for my mom and she enjoyed using it. She's over fifty so she looking for multitasking product. She used it together with a Vitamin C serum.
Yes, I would recommend this product to a friend (Mario)
Hey, this product is really fantastic! I'm on week 4 and the difference in my skin is incredible. The dark spots, sun damage, uneven skintone, old acne scars, etc… have diminished considerably. i had tons of sun damage after playing tennis this summer without enough sunblock. what was mortifying was that most of it was on my upper lip lol. i looked like i had some sort of bazaar mustash lol omg it has finially dissapeared! in general, my skin is noticeably softer too. i would highly recommend this product. i have 2 more weeks to go and it can only get better (Elizabeth)
Negative customer reviews on Clinique even better dark spot corrector:
My search for the perfect Melasma cream continues. I have combination skin which is not normally sensitive and have some stubborn dark spots. I was hoping this serum will do it but unfortunately despite the addition of the soother, my skin was irritated with the use of this serum. Its back to prescription retinol for me as that seems to be the best for dark spots and fine lines. (Emanuel)
I bought this to help with dark spots from old acne scars. I've used it for 2 weeks and can't see a difference in the acne scars but can see a brightness in my skin in general. So I will continue to use this product. (Mary)
I bought this for my freckles and also my acne scars. I've used it for a few months now and I can't say I've noticed a difference. It makes a great moisturizer, but that is not what I bought it for. I probably won't be purchasing it again. (Cynthia)
I'm about a month in, and I don't see much of a difference. It could be because I have severe dark spots so it is hard to tell, but for the most part there is not a significant change at all. I'd like to keep using it in hopes that i'll start to see a difference since they say it takes about 3 months, but the bottle is pricey and may not be worth it if I haven't seen any changes thus far.(Zhane Norris)
I've used TWO of these bottles already and it didn't even lighten my dark spot one bit. HOWEVER, it did give my skin a better complexion, keeping it moisturized but not too oily. I will probably try to find a cheaper substitute.(Stacy)
I have been using this product for about a month and I don't see alot of improvment in my skin as mentioned in the commercial. I have problems with acne and was expecting a better result.(Ronica)
No product is perfect but this product worked to lighten an small area on my face I can still see the spot but it is lighter, but I think it cost to much because you have ti keep using it. (Mayra)
References:
http://www.socialsoup.com/review/CliniqueDarkSpotCorrector/?title=Clinique%20Dark%20Spot%20Corrector
https://www.macys.com/shop/product/clinique-even-better-clinical-dark-spot-corrector-optimizer-1.7-oz.?ID=2934263
https://www.dillards.com/p/clinique-even-better-clinical-dark-spot-corrector/504141802
http://www.ulta.com/even-better-clinical-dark-spot-corrector-optimizer?productId=xlsImpprod14661019
https://www.clinique.com/product/1693/9287/skin-care/uneven-skin-tone/even-better-clinical-dark-spot-corrector
https://makeupandbeauty.com/clinique-even-better-skin-tone-corrector-review/
https://www.sephora.com/product/even-better-clinical-dark-spot-corrector-optimizer-P410673
https://www.consumerhealthdigest.com/skin-brightener-reviews/clinique-even-better-clinical-dark-spot-corrector.html
https://www.beautypedia.com/skin-care-reviews/by-brand/clinique/Even-Better/_/Even-Better-Clinical-Dark-Spot-Corrector
http://www.ladiesbalance.com/clinique-even-better-clinical-dark-spot-corrector/
https://www.amazon.com/product-reviews/B003FSGRW4/ref=cm_cr_dp_d_cmps_btm?ie=UTF8&reviewerType=all_reviews